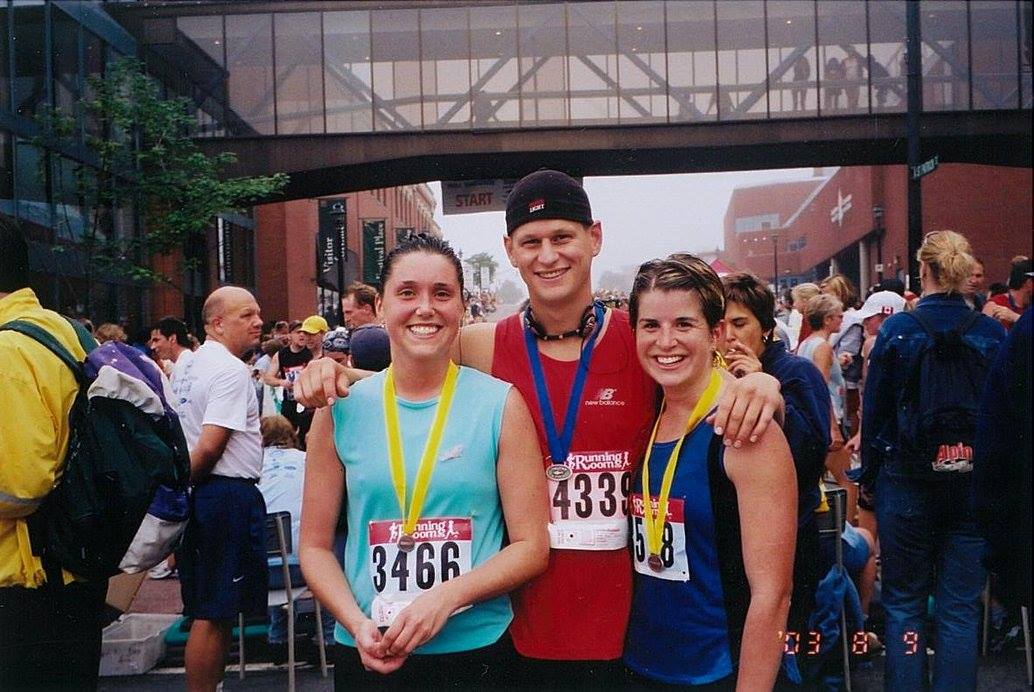 Natalie Davidson, right, ran her first half marathon at Marathon By The Sea in 2003
Natalie Davison is originally from Moncton but now calls the far north of Queensland, Australia home. She moved there in 2008 after graduating from Dalhousie University with a physiotherapy degree.
Originally, the trip was thought to be a six-month holiday but she quickly fell in love with the country and never left. However, she is returning to New Brunswick to compete in the half marathon in the 2016 Emera Marathon By The Sea.
Of note, she is training in the winter in Australia although she was still running in shorts and a t-shirt. Eight years later, she is a dual citizen and loving life, while she misses her friends and family.
"If they could move here, life would be absolutely perfect," she explains.
Here is a short interview with Natalie on the eve of this year's Marathon By the Sea.
Enjoy.
Kevin Barrett
==
I am not sure when I first started running. I grew up lifeguarding in Moncton, so it was always a part of our general fitness but it wasn't anything I did on a regular basis. While at UNB in Fredericton, I ran a bit as well as a stress relief during exams and to help with the freshman weight.
It wasn't really until the spring of 2003 before getting into DAL, that I really started seriously running. I was working at the physio clinic in the Aquatic Centre and met the spin instructor who mentioned that she ran.
Not one to do things half-assed, I decided I wanted to run the half marathon at MBTS that summer. Katie Russel Haines (the spin instructor) ran with me for my first run and thankfully decided to continue running with me.
She told me later that she hated running with me at first as I was so short of breath I couldn't talk. It wasn't too long before we were chatting non-stop and we very quickly became amazing friends.
Our running routes were either through Rockwood Park or along Manawagonish Road. After completing the half, we decided to train for the Kentville full marathon that fall. I was living in Halifax for school so I'd either drive to Saint John or Katie would drive to Halifax so we could complete our long runs together on the weekends.
I will never forget that my first full marathon had me turning around in someone's driveway!!!
From 2003 until this year, running has been very sporadic for me. I would start running again but then stop again for a while. I guess life got in the way.
My most memorable run would be the 2015 Disney full marathon. Katie flew from Saint John, I flew from here and my sister (who was completing her first-ever marathon) and my brother-in-law flew from Manitoba. It was great to all be able to start and finish a marathon together!
For me, running was always my stress relief when I was living back home. I had forgotten how great of a help it was until I started training for this year's half a couple of months ago. I battled mental health issues over the past couple of years and after separating from my husband earlier this year, I moved to North Queensland for work.
Being in a different city by myself, I would run at night. At first it was tough. Greater than 30C weather in more than 50 percent humidity is not fun. Thankfully, it has cooled off and as I'm getting in better shape, running is becoming easier.
Running has once again become something I love doing. It helps clear the head, helps me solve problems as well as assisting with weight loss. It also allows me to enjoy the amazing country that is North Queensland. My favorite run is along the Cairns Esplanade but anytime I can run along the water, I am in a happy place!
My basic goal is just to continue running after August 14th…..to not stop now that I love it again. My goal over the next year or two is to complete the Cairns Half Ironman. I guess now that I said it (well typed it), I will have to do it!
I've been blessed to meet some amazing runners along my journey as well as had some great training partners. I hope to see many of them on August 14th. xo