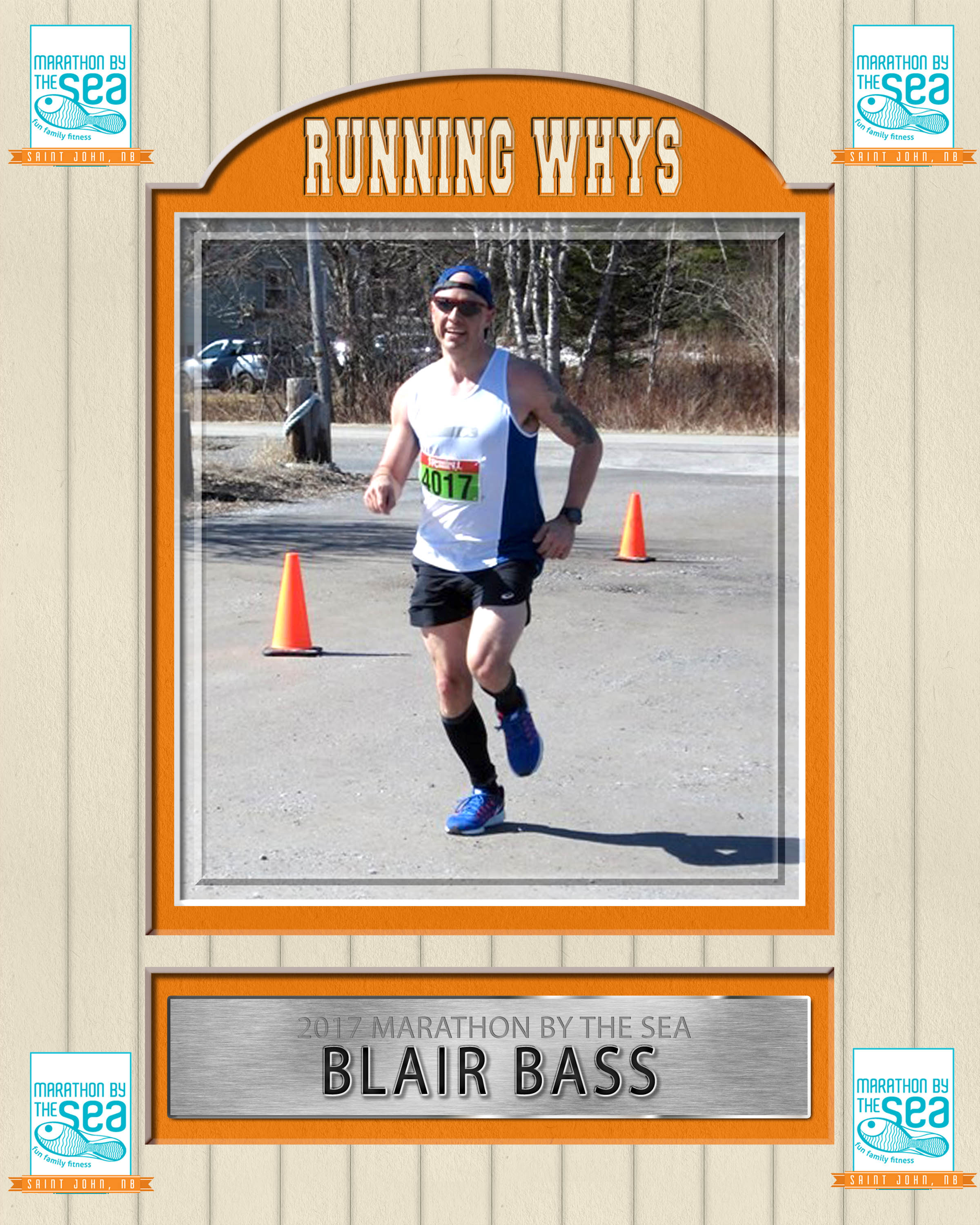 by Kevin Barrett
For many runners, training takes place in the dark, the early morning hours before sunrise, the calm before the day's responsibilities kick into gear.
With others, running is powerful therapy in an escape from an internal darkness, a forum to invigorate their soul, a setting to flee from life's challenges or a mental home in which to find important solutions.
Blair Bass, a 32-year-old Saint John native, credits running for allowing him to deal with his own mental health issues and in many ways, has assisted a personal growth that's led him to lose 60 pounds, go under 23 minutes in a 5-Km race and post a strong result in his first marathon.
There are more important areas though.
It's been over a decade since he's faced the darkest of days, when he contemplated suicide. He's recovered – a credit to loving support from his family, education he gained en route to a pair of degrees and the works of many authors, who have enlightened and inspired him. He salutes the efforts of anyone who brings mental health issues into the forefront, including Olympian Clara Hughes and the Bell Let's Talk campaign.
As we kick off the 2017 Running Whys for this year's Emera Marathon By The Sea, Blair explains the long road to his own transformation and the treasured reasons why MBTS holds such a special place in his heart.
He was always a runner (his grandfather was a national class miler) but he restarted in earnest with three laps at the indoor track at the YMCA in March of 2016. He progressed quickly and last summer, took on the challenge of the Into the Night run at MBTS, recording a remarkable time of 22:35 for 5-kilometres.
He's kept going and as lifelong asthma concerns lessened, he increased his training distances and times, recently clocking a 3:32:47 result at the Fredericton Marathon several weeks ago – a major bucket list item.
"The therapeutic nature is what appeals to me for my regular running," he said. "My naturally competitive nature (that is, with myself, constant self-improvement) lends to the racing aspect. I love lowering my personal bests. Crossing those finish lines and seeing an unexpected time is a terrific feeling. The accomplishment is the offshoot of the therapy."
The 2017 Marathon By The Sea marks a special one year anniversary for Blair, who will run Into the Night 5K, the Harbour Passage 5k and the Quarter Marathon events on race weekend this Aug. 11-13.
What follows is his open account of why those events are important to him. It' a powerful and honest assessment of where he's come from and where he is going.
We hope you enjoy Blair's account.
—
As part of a series Running Whys, I was given eight interview questions. The focal point and most important question was just that: why do I run? To answer this question, I decided to get a little bit in depth. I have never been comfortable addressing my mental health issues in an open forum. I am offering a small insight into my thoughts on mental health issues, how I deal with them and dealing with the stigma attached.
MACBETH
Cure her of that.
Canst thou not minister to a mind diseased,
Pluck from the memory a rooted sorrow,
Raze out the written troubles of the brain
And with some sweet oblivious antidote
Cleanse the stuffed bosom of that perilous stuff
Which weighs upon the heart?
DOCTOR
Therein the patient
Must minister to himself.
MACBETH
Throw physic to the dogs; I'll none of it.
I am a 32-year-old male. I am a university graduate and generally productive member of society. Always a bit on the quiet side (at first), I am generally not one to open up about anything. Honestly, in addressing this topic of mental illness, however, I feel there are benefits. I have struggled with mental health issues for the last 14 years of my life. I quote this Shakespearean passage above to echo a familiarity with my situation: the acceptance of state of my mind, that perhaps only I can truly understand and address the healing of it, and, finally, that I have decided almost entirely that medication is not the route in which I want to address it.
And thus, I answer the question at hand. This is why I run. It is my therapy.
I started running for health reasons—mental and physical. While a university student in Fredericton, I suffered a considerable setback in life. An underlying mental health issue had crept unto me and was eventually devastatingly exploited by my-then, unwavering curiosity about exploration of the mind and modes of consciousness.
Functionality had become a problem. I moved home to my fully supportive parents and regrouped. I was lucky to have them at my side for over a year while I figured out how to get things back on track. I did. With the help of many, I got back to school and started my life again.
Almost a decade later, I had decided that the cocktail of medication I was on had been a crutch long enough. Coming off was not easy. To cope, I found running to be my primary therapy. Hand in hand with mental health is taking care of my physical health.
After coming home and addressing my mental-health issues, a combination of reduced exercise, non-mindful eating and medication side effects caused me to put on a good amount of weight. I am currently down about 60 pounds from my heaviest (including a period of about four months when I started running, where I lost over half of that chunk).
I wasn't sure where to fit this in but I want to make one thing clear – I am not on a crusade against pharmaceutical medication. It is simply not for me. I leaned on it, but for far too long. It robbed me of my personality as the quintessential "me" had disappeared.
Not everyone can do this.
I am not completely un-medicated. I do not advise that this is what everyone should do. This is simply my story. My struggle is continuous but manageable.
I run to both escape and face demons. It's incredibly freeing in one sense. When I want to get lost in music and forget about life for a bit, I run. It can incredibly introspective in another sense. I use running as a time to contemplate and address my mental issues.
There's something about the act that allows me approach my mental health from a perspective that sedentary practices cannot provide. An allowance is made in which I can find myself at once the observer and the observed. Not always, but I do get insights into the workings of my thoughts, mental processes and the consequential effects in my day-to-day life.
It is difficult to broach the subject of mental health.
I hate labels so I will not mention any diagnosis or suspected conditions as per medical terms. I do not want to be labeled. I do not look for sympathy but simply an understanding that people do go through this. If I tried to put into words the mental states I have gone through, it would be impossible to ask most people to look at me without the natural prejudices of that ingrained stigmatization.
I have a few special people in my life who are able to do that but, ultimately and unfortunately, I do not talk in a completely open forum about what I went through and go through.
There is this stigma about being mentally unwell. But I've become okay with it.
My mental processes are inherently different. I just look at other people and think, as the great mixed martial artist Conor McGregor says, "they don't t'ink like I t'ink."
I get my bad days. They include the reminders of perhaps why I once, as a 20-year-old, seriously considered ending my life. I have been there. With a plan.
I was convinced that I was a hindrance. In the moment, as I tried to weigh the options in my few moments of clarity (they were few and far between at that time, hence my hopelessness), I saw it as pure selflessness. Suicide: less a burden to the world; less a burden to myself; self-sacrifice for the better of all.
Before I got to that point, I asked for help. Even in my clearest moments, I realized I was not thinking coherently. Thankfully I got that help. But I got to that point where I can understand the concept of suicide.
The reminders of what set off this hellish odyssey are still there. My consciousness-driven curiosities are not satisfied. I read and study these ideas a lot. Perhaps not as much anymore, but the works of Huxley, Leary, Ram Dass, McKenna, Ginsberg (I could go on) still fascinate me. I've tried meditation. I have no intention of using drugs anymore.
I say I've tried meditation; any type of this of-mind exploration tends to set me off. So I read to address this curiosity and, to borrow from David Byrne, I accept who I am and where I am, that this (whatever it may be) is my reality: with my "feet on the ground, head in the sky…I guess that this must be the place."
And I run.
I applaud the work of Clara Hughes and campaigns like Bell's Let's Talk; I am happy that the stigma is being addressed. It has not been lifted. It never will be. Each year that it passes, I think of sharing my story in some way but always decide not to. When I was asked about this doing this article, I wanted to share and this is merely skimming the surface. A small insight into my condition and how I use running as an effective means to address it.