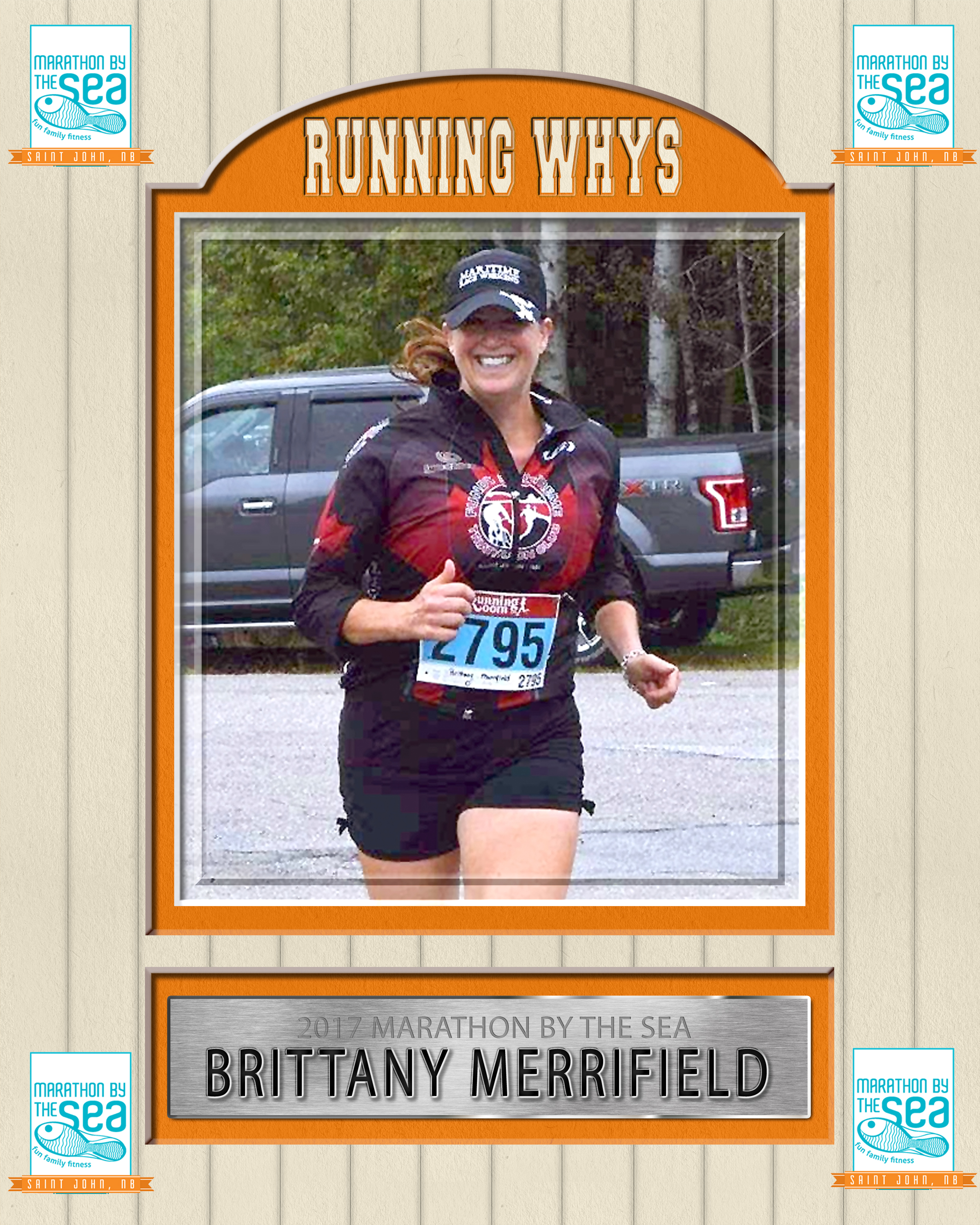 by Kevin Barrett
For Brittany Merrifield, the Emera Marathon By The Sea is more than a race, more than logging of kilometres in training.
For the Saint Johner who left the city for more than a decade before returning to the land that she loves, MBTS represents much more than all that.
"This race means family, means comeback, means running isn't over for me because I did have a lot of moments when I felt running was over for me and I decided not to let that be the case," Brittany says. "It means community and friends. It means all of those things."
Merrifield, well known in the city for her outstanding photography, started running seven years ago when she lived in Chicago, looking to compete her first 42.2 km race – The Chicago Marathon. As part of her training that year, she ran the half marathon at Marathon By The Sea, her first ever race and she's been a regular every year but one since then. Next month, despite dealing with a hip injury, she plans on tackling the 10-plus kilometre event on Aug. 13.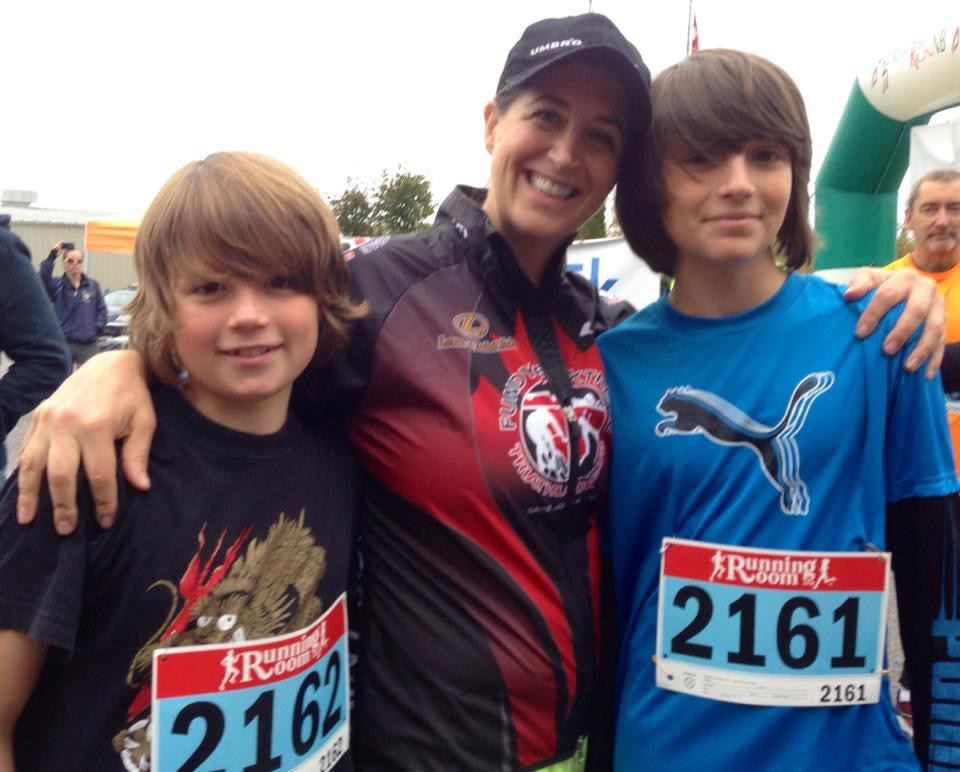 "I am the poster child for 'anyone can do this'," Brittany says. "I am a single mom with four kids and I am not genetically blessed to be a runner or particularly amazing. It proves that MBTS is such an accessible event. I can do it with all the barriers I have, so anyone can do this.
"All the years I lived away, I always came home for a month with the kids and we always had a connection with Saint John, the ocean and all of that. It means a lot to be able to run with my family and to be able to do it here. "
Running was never a big part of Britany's life but in 2010, after discussions with friends, she decided to register for a marathon to celebrate turning 40 years old. Daunting as the Chicago Marathon may have seemed, it was a perfect setting to get back into shape after the birth of her fourth child.
"Running is like therapy," she said. "Being a single mother of four kids, who is running her own business, you need something to do for yourself. When you go out for a run, it is like therapy.
"It allows you to process a lot of the thoughts that are going on in your head. You will start out all stressed out, you are busy and by the end of the run, you have processed some of that stuff and you are some much better."
As she advanced, she says her kids would encourage her to get out – in unique fashion.
"My kids (now 15, 13, 11 and 9) will say, 'Mom, you are crabby, you should go for a run.' I'll say, 'that is so diplomatic!'"
Given her responsibilities, she would run on her own in the beginning– but it was part of a family jaunt to the area park, so she was never truly alone.
"Because I had all these little kids. I would put my two youngest in a jogging stroller and the two oldest would be on their bikes. I have pictures of the stroller with 10 water bottles lined up.
"We would run to the park, so having a destination meant they would not complain too much. It started out being anywhere from 5 to 8 km."
There were looped trails in the neighbourhood she lived, so she could add manageable distances when she felt it was time to tackle more.
"I noticed the benefits right away and it was something we could do all together. We still run together."
Other times, she took to the treadmill, which isn't for everyone. Brittany loved it because of the flexibility it provided. "It was freedom," she explains. "I could put the kids in front of TV, especially in winter when I could not take them out and I could have my therapy.'
Brittany moved to Saint John when she was in Grade 4, eventually graduated Saint John High School, studied at McGill University and then finished her degree at UNB Saint John. After that, she lived in the United States, including stops in suburban Dallas, Houston and of course, Chicago.
"I am really happy to be back here in Saint John, because I can't imagine a better place to raise the kids," she said.
Since her first running steps, she's competed the Chicago Marathon once and the New York Marathon twice, all distinctive events for various reasons.
"They are all pretty memorable," she explains. "Chicago, because it was my first; New York in 2014 was memorable because I crossed my finish line with my friend Jocelynn (Cook). It took us a really long time because she had a significant knee injury and we were out there until it was dark but we crossed the finish line together. We had this amazing bonding experience.
"The second time in New York was probably the roughest one I ever had in my entire life (she was injured midway through) but I did not stop because I did not want my family and friends who were there to ever see me give up. I finished and of all of them, it may have been the most meaningful because it proved to me that I can do hard things."
She credits the influence of Jocelynn Cook of Ottawa and Mark Clinton of Saint John for inspiration. "I get him out and he makes me work harder," she says of running with Mark. "It is the perfect combo."
It all leads to the upcoming Marathon By The Sea, which takes Brittany back to the place of her first ever race – MBTS in 2010.
"I had never suited up with a bib before in my life," she recalls. "We were training (for Chicago) and MBTS was right around the time when we had to do a 20 or 23 km run anyway. I decided to give it a try and ran with one of my friends Jill.
"I remember finishing and thinking 'Oh My God, I am going to have to do that twice.' It was fun but I was panicking at that same time. We then ran Chicago – which was really hot, 100 degrees during some parts of the race. It was challenging, fun and amazing to actually finish a marathon, which is a life goal for a lot of people. It certainly was for me."
The Emera Marathon By the Sea weekend in August 11-13 in Saint John. You can register here.