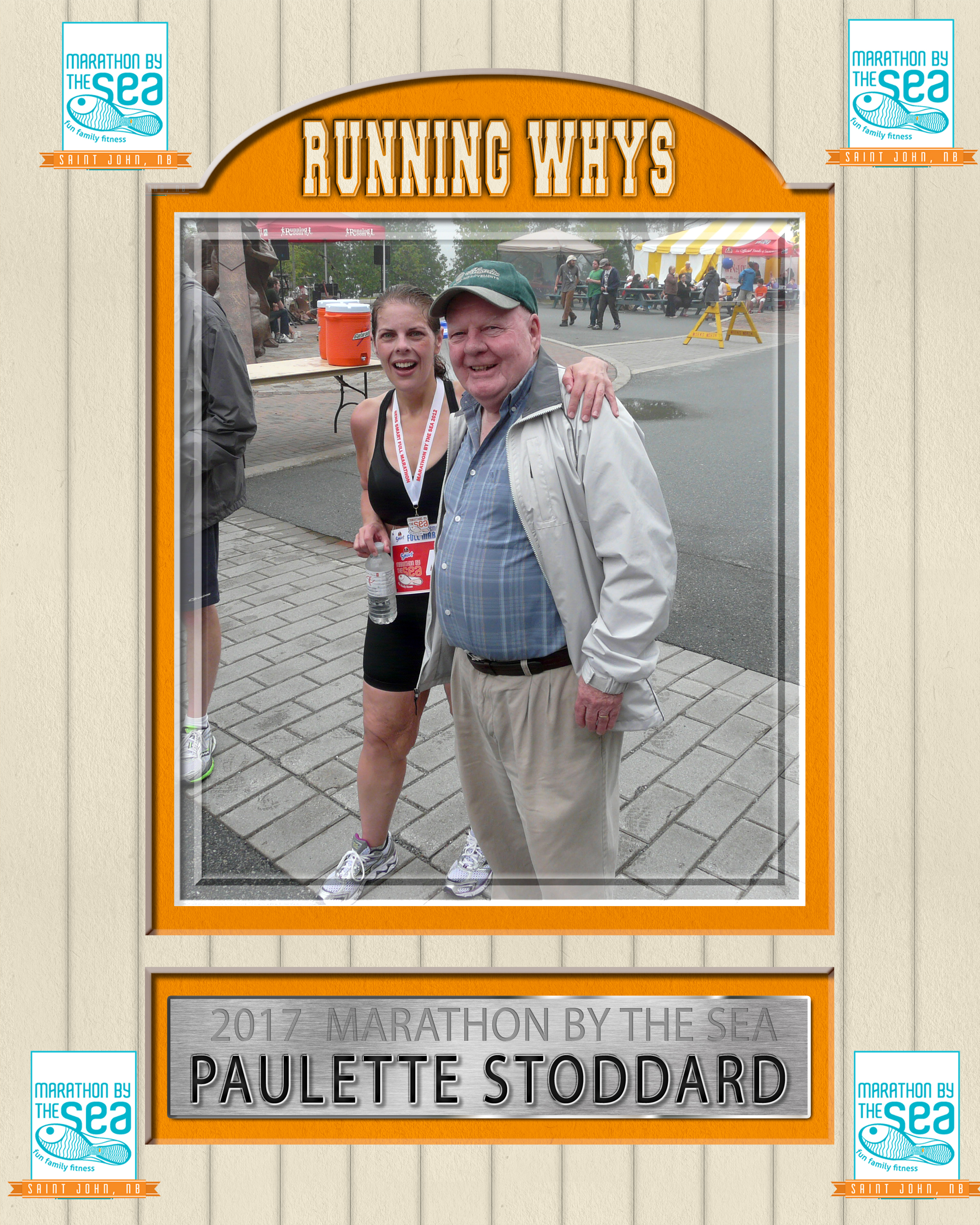 by Kevin Barrett
Paulette Stoddard is a Saint John native who started to run in 2009, one of many important facets that helped in transforming her life.
She continues to live on the West Side of the city and has been happily married to her husband Jim since 1999. Professionally, she is the Purchasing and Security Manager with WorkSafeNB.
The Emera Marathon By The Sea is an extremely special race for her because it was her first event, her first full Marathon and the key run in which her late father always came to support her. She ran it in 2016 in his honor even though she was still working through some injuries. Her time was not her best but she calls it her best race of the year.
Running had developed into a critical component of life for Paulette, who says she gets emotional during distance races because, as she works through the pain and fatigue of 'the Wall', she reminds herself how fortunate she is to be able to run and how she is doing something she never thought would be possible.
"I also think of all those people who, through health issues, lack of fitness or obesity would love to be able to run and push through greater pain and difficulty each day. These people would likely give anything to run and it would be a travesty for me to not appreciate what my body is allowing me to do," she explains. "While my body may have battle scars and is not physiologically perfect, it is healthy and I can run so I need to celebrate that and do it."
Paulette credits a fantastic running, cycling and triathlon community in New Brunswick for her personal progress. "I am a member of several groups and try to train with those groups and friends where and when possible. There is a new running group call the Rockwood Road Warriors, which I was fortunately allowed to join, they train Tuesday and Thursday. On Sundays, I try to join the KV Road Runners for my long runs, when my schedule allows.
"I also belong to Fundy Extreme Triathlon club. The running and multi sport community is very strong and supportive in Saint John and we have great coaches and training events. Alex Coffin, Dean Strowbridge, Brenda Guitard, Daryl Steeves and Garth Millar have been instrumental mentors and coaches.  My favorite routes are the Irving Nature Park, Rockwood Park and routes in Grand Bay-Westfield – where I work.
She says running makes her feel free and provides so much mental and physical clarity. "I hate treadmills, so being outside and running in fresh air with friends is the best elixir. There is nothing better than a solo soul affirming run or a run with friends where great conversations and humorous antics abide.  Running is physical, mental and spiritual therapy.
"Anyone who thinks that they can't run – can. People who maintain that runners must be crazy are very wrong. What is crazy is to not run."
This year, she will run the Emera Marathon By The Sea half marathon after adjusting her routine because of injuries.
"My bucket list goal is to qualify and run the Boston Marathon," she says. "My best marathon time was a sub 4 hour and I am confident that with hard work and a strong healthy body, I can do better and achieve that ultimate goal."
This serves as a preview of the main purpose of this story- why Paulette runs. What follows is an inspirational account of her journey and how far she has come.
The Running Whys with Paulette Stoddard
As a child, and into adulthood, I was always morbidly obese, my highest weight being over 300 lbs. I was caught in the yo-yo diet cycle where I would go on a structured diet and exercise regiment to lose weight but the weight loss would be short term and quickly bounce back and then some.
It was a never-ending trap I could not escape and the more I tried, the weight kept piling on. I felt like my body was rebelling against me. People would say "don't eat", "have some self control". Fact was we all need to eat to live, so it is not like another person with an addiction to drugs or alcohol. Our whole society and culture is based on food and you cannot escape it. Not eating would just put my body into starvation mode and I could not sustain that.
I always loved nature and enjoyed walking alone in non-public areas where I did not have to encounter any public ridicule about my weight. I genuinely tried to be active where my weight allowed. Eventually, inspired by family members, I joined our local curling club and started to curl and continue to curl today. Curling was a great sport to be involved in as an overweight person because it was very social and the physical activity in a ladies club league offered short intervals of intensity for someone so unfit.
It helped to build my confidence and curb my insecurities and shame in being so overweight. I always felt like I was trapped and was on the outside looking in. I lived vicariously through others. I saw friends being active and partaking in all the activities I wanted to but my body would not allow.
Running was something I never even considered, cycling maybe, but running was totally not something I ever thought I could do. My fitness level was so poor that even simple daily activity was difficult so the thought of actually running was not even on my radar.  At this stage in my life, even walking for any duration was a huge athletic accomplishment for me. I could not even imagine trying to run – walking was exhausting.
I now say that my mouth got me into my predicament and it also was the catalyst to get me out. In 2009, I had orthognathic jaw surgery and my jaw was wired shut and unable to eat solid food for a long time. I subsequently lost weight but knew that once I would be able to eat, my weight would likely bounce back and then some again. I had a catharsis during the healing process and decided that I would use this situation as a means to change my life permanently and break this cycle for good but knew I needed exercise.
Fortunately, at the same time, my close friend, Dr. Anne Murphy, joined the Running Room and was actively running with coach Brenda Guitard. Each morning, Anne also trained with a group of ladies at our local Irving Nature Park. Anne encouraged me to join them in the early mornings when no other people would be there and it would be the perfect setting to get active and run.
I laughed this off because again, the idea of ever running was not even something I would ever consider. I had the pre-conceived notion that runners were these elite sport alien creatures from another planet and not in my stratosphere. They were beautiful, happy and perfect people and I was always destined to be a wanna-be, plump plodder who would never fit into their world.
At this stage, I still found walking a strenuous activity so running was out of the question. I did go though and the running girls would run and I would walk and then we would eventually meet up.  My supportive husband, Jim, would join me walking each morning and over time my endurance improved and my weight kept dropping, my body was slowly getting more toned and my energy level was improving.  Eventually walking was getting boring and too easy.
I recognized that I needed to push myself more, so I would chose a focal point like a certain tree and run to it and then walk again and gradually added more running intervals. Quickly, I was able to run for a sustained duration and distance and I will never forget the morning running girls told me that I was now going to join them regularly and run the park.
For someone who was never chosen for sports teams or activities in school, being invited to join a group in physical activity was the most exciting thing ever. It ended up being the best thing to happen to me. It pushed me in so many ways to gain confidence and appreciation for what I was blessed with instead of focusing on what my challenges were.  I did not want my weight and low self confidence about it to be a self fulfilling prophecy any longer.
I was buried mentally and physically by my weight all my life and through friendship and running I was able to shed more than weight but gain a level of confidence I never thought possible. I also came to learn that my bias and assumptions about all those other perfect, beautiful running people were very wrong.
Instead of being elitist snobs, they ended up being the most inspiring and motivating group of friends I could ever ask for. I also quickly learned that we had much in common. They were just people like me and shared the same insecurities and challenges in life and they loved to run for the same reasons I did. They never judged me for my weight or ability and instead welcomed me.
This was infectious and I was spurred on to run more and I eventually ran my first 10K race at Marathon by the Sea.