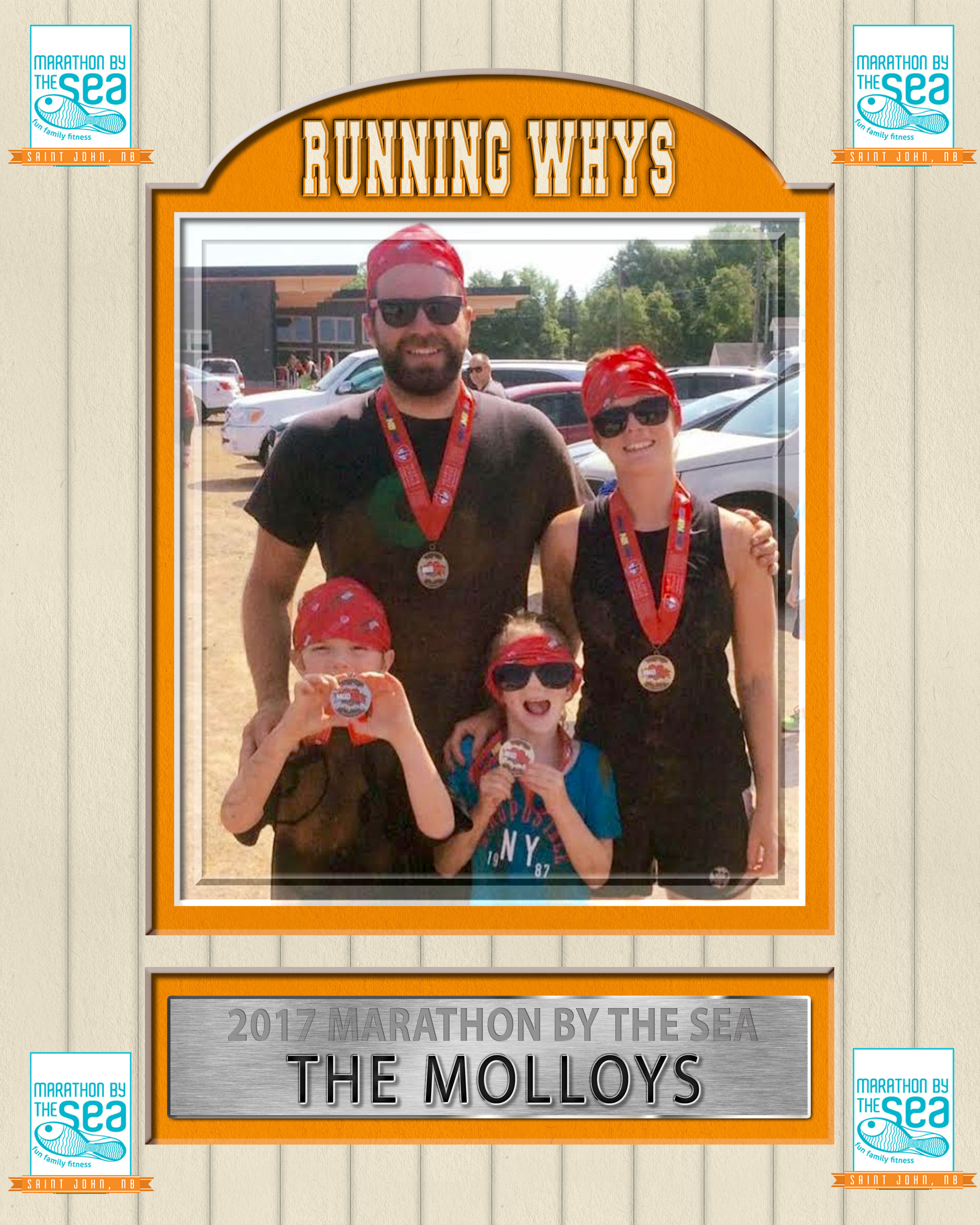 by Kevin Barrett
The Running Molloys.
It's a name that takes some time to get accustomed to, especially for a Saint John couple participating in this year's Emera Marathon By The Sea.
But Brian and Katie Molloy have bonded while training, enjoyed the benefits from their efforts and even have their two children involved in 5-kilometre runs to prepare for this year's event.
It is worth considering it was just a few years ago when Katie, a physical education teacher at Valley Christian Academy, took up the sport and was joined shortly thereafter by Brian, the pastor at Cornerstone Baptist Church.
"I struggle with depression and running was a great antidepressant for me," said Katie, who grew up in Quispamsis. "It helps to clear my mind and refocus. Because of this, I wanted to make it permanent part of my life.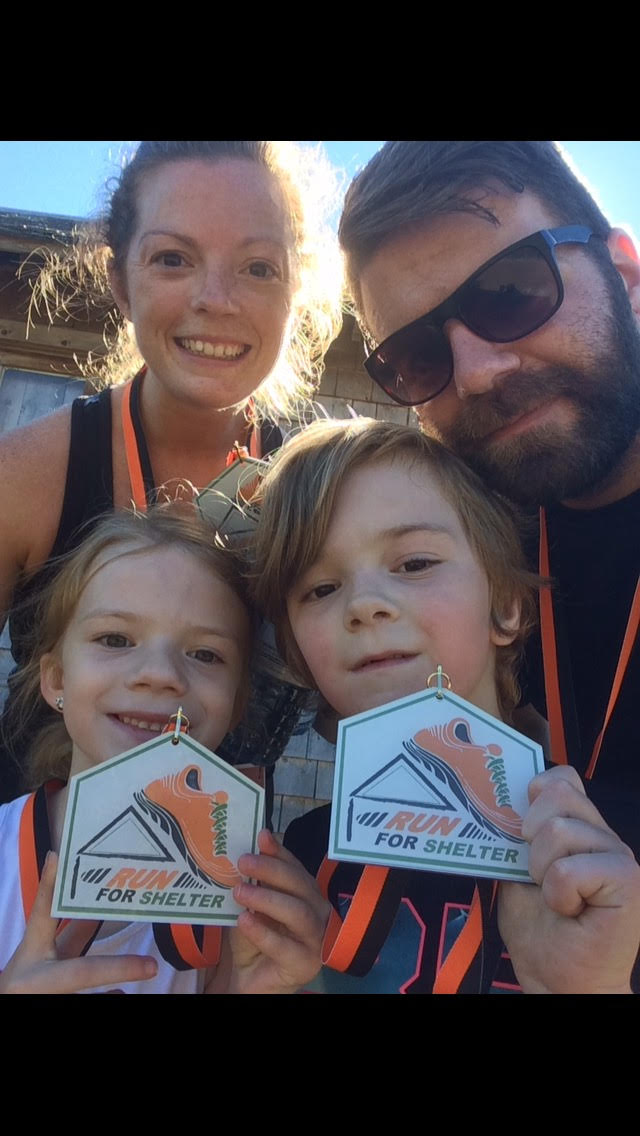 "Running is a great way for our family to spend time together, outside, getting exercise. It is important to Brian and I that our kids see a good example prioritizing health and fitness."
Brian, a native of New York who has spent the past 15 years in New Brunswick, was a runner when he was younger but it stopped as he developed his career and started a family. However, when Katie got into it again, it was a signal to reignite his engine.
"I first started running in college as a means to lose weight and become healthier," he explained. "After college, I stopped running because of the busy-ness of life. When Katie started running over the last few years, I decided to get back into it for us to spend more time together and for me to get back into better physical shape."
See preview Running Whys story on Blair Bass.
Now married for 10 years, Brian and Katie are taking part in the Into the Night 5 km to kick off race weekend in August with their children, soon to nine-year-old Jackson and seven-year-old Sophie,
"I love that we do it as a family," Katie said.
While she started running more consistently two years ago, she began competing in races last year, in part because she was organizing a 5-km event for her school's physical education program.
"I figured that I should participate in one of these events first before I planned my own," she said. "So Brian and I ran our first race in the Brent Kelly Memorial 5-Miler. I was hooked."
For Brian, the physical benefits are important but like Katie, the mental clarity he gains during and after a run hits home, given his role at the church.
"General physical health is usually the main motivating factor for the 'why' I run," he said. "That being said, the reason I continue to run, even if I meet my physical goals, is because of the mental health is gives me. Running allows me to clear my mind and not give into the stresses of my job. Running allows me to rest and sleep better which in turn allows my mind to be sharper.
"Running also allows me to enjoy simple goodness. Much of my job entails understanding and explaining God in an information sort of way. Running confronts me with the reality of a body that functions, air that smells good, scenery that is pleasant to look at and a mind that keeps pushing when it would be easier to quit. Running allows me to enjoy the goodness of this world, it allows me to enjoy God in a more practical way."
Register for this year's race.
The Molloys were among the first to sign up for this year's Marathon By The Sea and will compete in the Port City Challenge – the Into the Night 5km Friday, Aug 11, the Harbour Passage 5km Saturday, Aug. 12 and the half marathon on Sunday, Aug. 13.
That 21.1 km distance once seemed so daunting for Katie, she's wasn't sure she'd be able to accomplish her goal. Getting out regularly has changed her thinking.
"When I started running, the idea of running a half marathon seem impossible to me," she said. "However, I encourage my students to challenge themselves and I thought, 'what kind of teacher would I be if I didn't do the same?' And so, after doing last summer's Into the Night 5K for the Marathon by the Sea, Brian and I decided that this summer, we would do the Port City Challenge.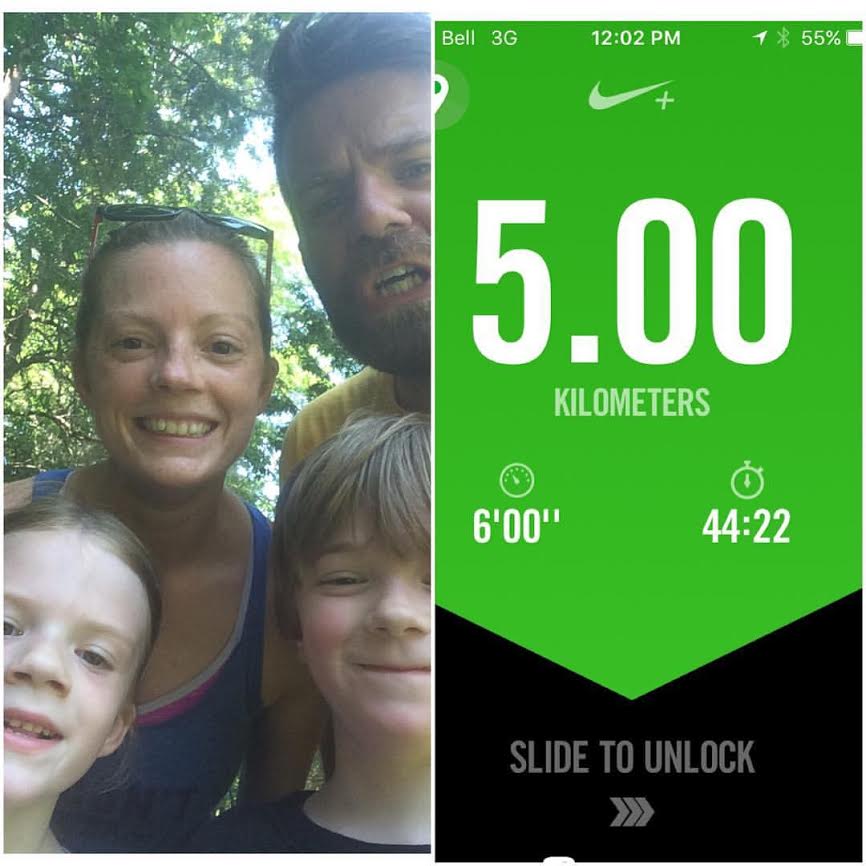 "Our kids, will be joining us for the night run. They have each ran two 5k races as well as two virtual 5ks and regular running with Brian and I."
Katie is not motivated by speed comparisons to others.
"I am not fast. I don't run to win, but to do my best. I always tell my students that they are not competing against each other but themselves."
Brian jokes that his main fitness goal is to remain alive after Marathon By The Sea ends but ultimately, wants to remain committed to running, long after race day ends.
"I find it easy to get out of the rhythm, and I would like running to remain an aspect of my personal life along with me family," he said.
Several runs stick out for both Katie and Brian.
For Katie, it was toughing it out through the heat at last year's Canada Day 10 km event in Grand Bay-Westfield.
"It was super-hot and it was my longest run up to that point," she recalls. "It was memorable because I almost quit after the first 5k lap. I was exhausted, but at the last minute, I told Brian that I wanted to keep going."
There was another for her as well – the recent Valley Christian Academy's 2nd Annual Fun Run 5K.
"I was the race director and Brian had a foot injury, so for the first time, we weren't running with (Jackson and Sophie). I was so excited when they both came in with a personal best at 38 and 39 minutes."
Brian enjoy that run as well in addition to that 2016 Brent Kelly 5-Miler, "as it was my first 'real' run that I took part in."
Another was the 2016 Outflow's Run for Shelter because it was the first run they did as a family.
Undoubtedly, a series of highlights will occur Aug 11-13 at Marathon By The Sea.