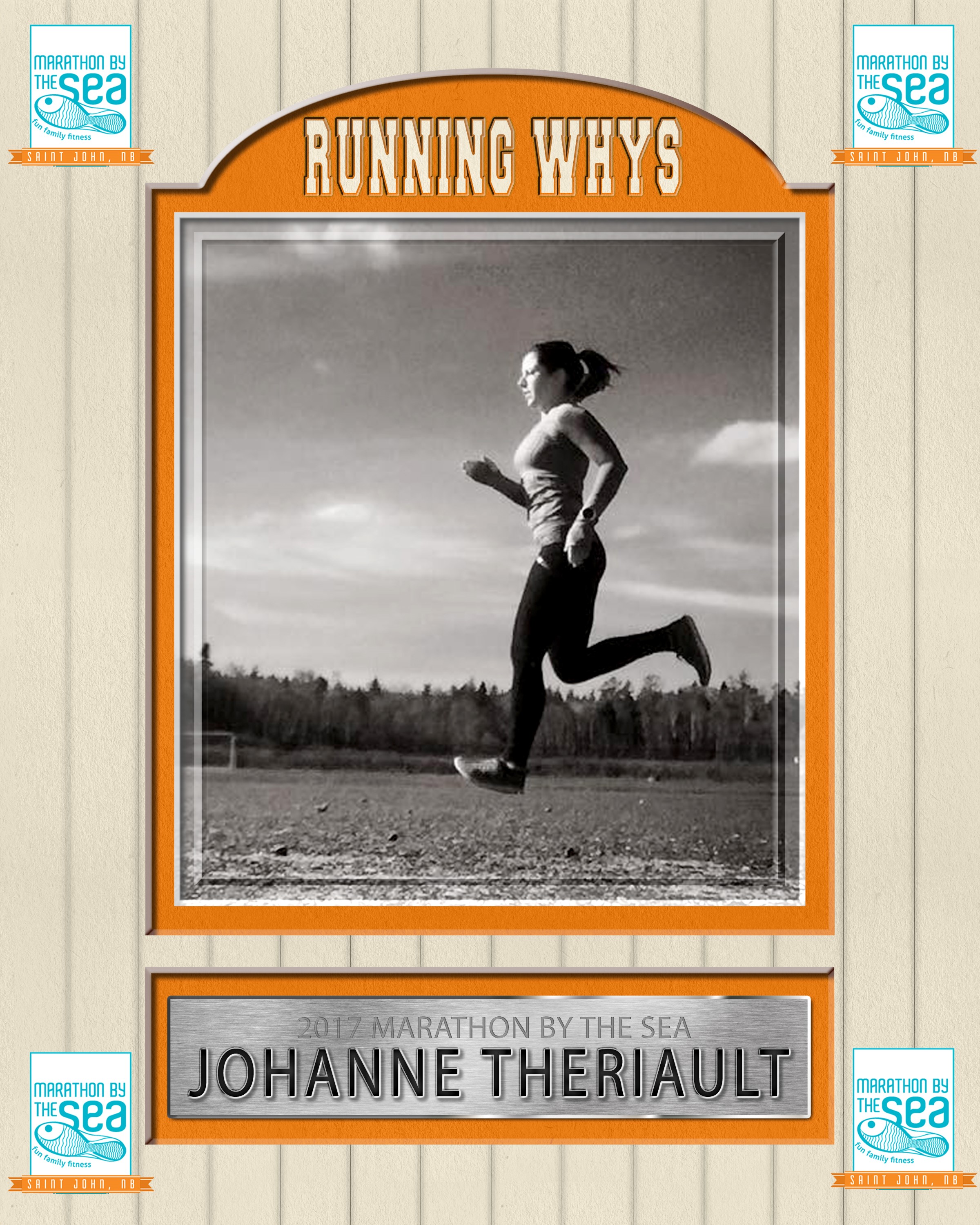 by Kevin Barrett
As Johanne Thériault details her busy running schedule, whether it be training on the road near her home in Nigadoo or outlining her plans to race in Berlin, Chicago and Saint John this year, the question usually turns to her motivations.
That's where the 34-year-old city solicitor for the City of Bathurst can get emotional.
"It's always a question I like to brush off, because the answer is pretty personal," says Johanne. "It's something that is still hard to even say out loud."
As Father's Day approaches, many thoughts this weekend are with family. For Johanne, it's a tough time as she thinks of her dad – Fernand – who died in January of 2016 after a 13-month battle with pancreatic cancer.
In the days and weeks after his passing, it was suggested she try some form of physical activity to assist during the extremely difficult grieving period. It was then she discovered running, which has provided her with many gifts, including therapy and some peace of mind.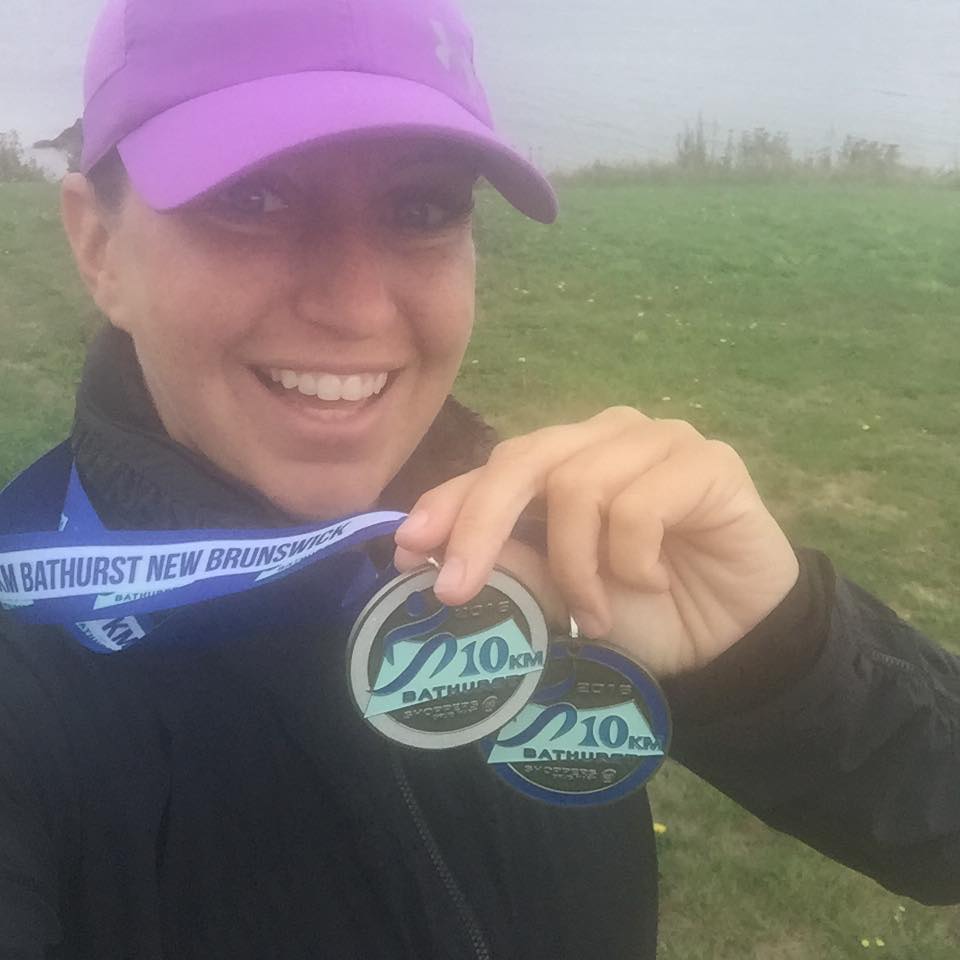 "My doctor, instead of prescribing me something not to "worry so much" or to help me to sleep, told me to find something to meditate myself, to ease my soul," she said. "When I decided to start running, it completely changed my life. Devoting so much time to running gave me alone time to think about everything."
Johanne now has a collection of half marathons on her running resume – events in Fredericton, Moncton, Edmundston and Miramichi and last August, she completed her first 42.2 km race at the Emera Marathon By The Sea.
She wonders what she would have done without that physical outlet to channel her father's death.
Johanne remembers vividly that Boxing Day in 2014 when she got the news something was wrong. Fernand woke up that morning with a stomach pain and decided to go get it checked, because he thought he had a flu bug or something reasonably minor.
Instead, the diagnosis was stunning – Stage 4 pancreatic cancer. He was given several months to live, if he was lucky.
"I can literally replay this day in my head like it was yesterday," she said. "I knew from that day, that nothing will ever be the same."
At the time, she was a newly-separated, single mom of two little girls, working as a Crown Prosecutor. She also bought a new home. Life was so busy.
Fernand even paid her a house-warming visit when he was well enough.
She admits feeling guilty in that she was caring for her girls, working a demanding job but desperately wanting to give even more time to support her ailing Dad.
"The day my dad visited, he arrived as a very skinny old man with no hair," she explained. "That was one of the hardest days for sure. During that visit, he sat in my living room watching the Baie-des-Chaleurs and he promised me to come back.
"He never came back."
She treasures his influence on her life as well as the impact he had on others. She recalls once in hospital when a male nurse visited her father and said, "Thank you, Mr. Thériault for saving my life."
"He explained that my father, a social worker, had taken care of him as a teenager and had found him the ideal foster family."
After Fernand's funeral services ended and the tough weeks that followed had passed, Johanne embraced the notion of running more to help her state of mind. She trained hard, gained confidence and eventually registered for her half marathon in Fredericton in May of 2016.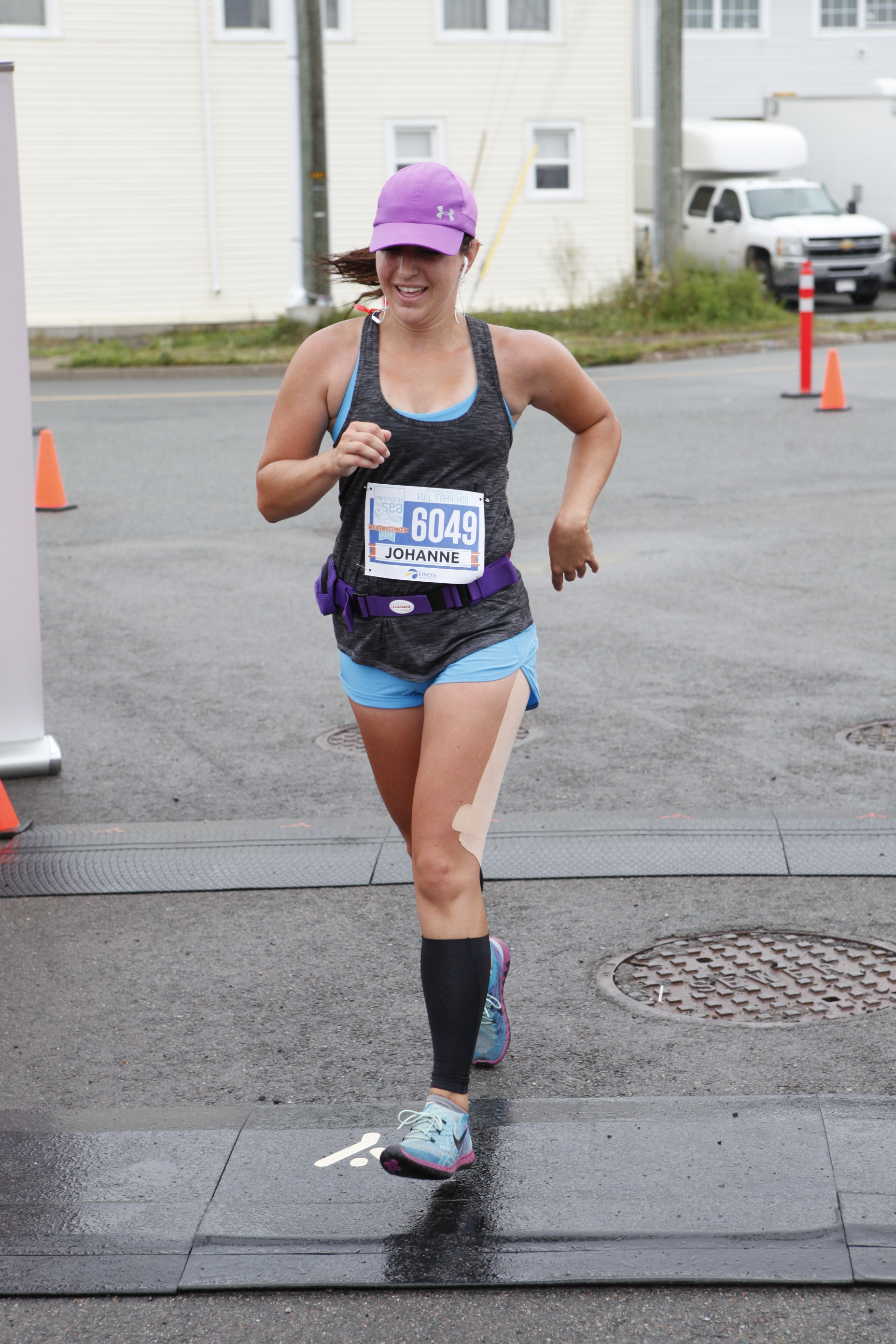 "Right away, I came home (from Fredericton) to sign up for my first marathon," she explained. "That summer, I ran a lot of races around the province. I was completely hooked. Running was the cure-all to everything. I did my first full marathon in Saint John that same summer."
She's also competed in half marathons in Edmundston and Moncton as well as other events in varying distances around the province.
View MBTS results from 2016
"I take a lot of pride in the fact that I can now deal with hard things completely by myself, without anyone's help," she says. "I never looked back after my first run. My days now are built around how many miles I want to run that day. I have the best running buddies ever, to share my love of running. I was completely lost, until I found myself out on the trails. I'm a true believer of everything happens for a reason."
This year at MBTS, Johanne will run the Port of City Challenge – the Into the Night 5km, on Friday, Aug 11, the Middleton and Associates Harbour Passage 5 km on Saturday, Aug. 12 and the Emera Marathon By the Sea on Sunday, Aug. 13. It is another weekend on a busy slate of events that will also include events in the RunNB SuperSeries as well as participation in the Berlin Marathon in September and the Chicago Marathon in October.
Those larger races are part of her plan to run each of the six Abbott World Marathon Majors before she turning 40. At 34, she will be off to a great start if she is successful in 2017.
And it a good bet that she will share the memory of Fernand in every one of them.