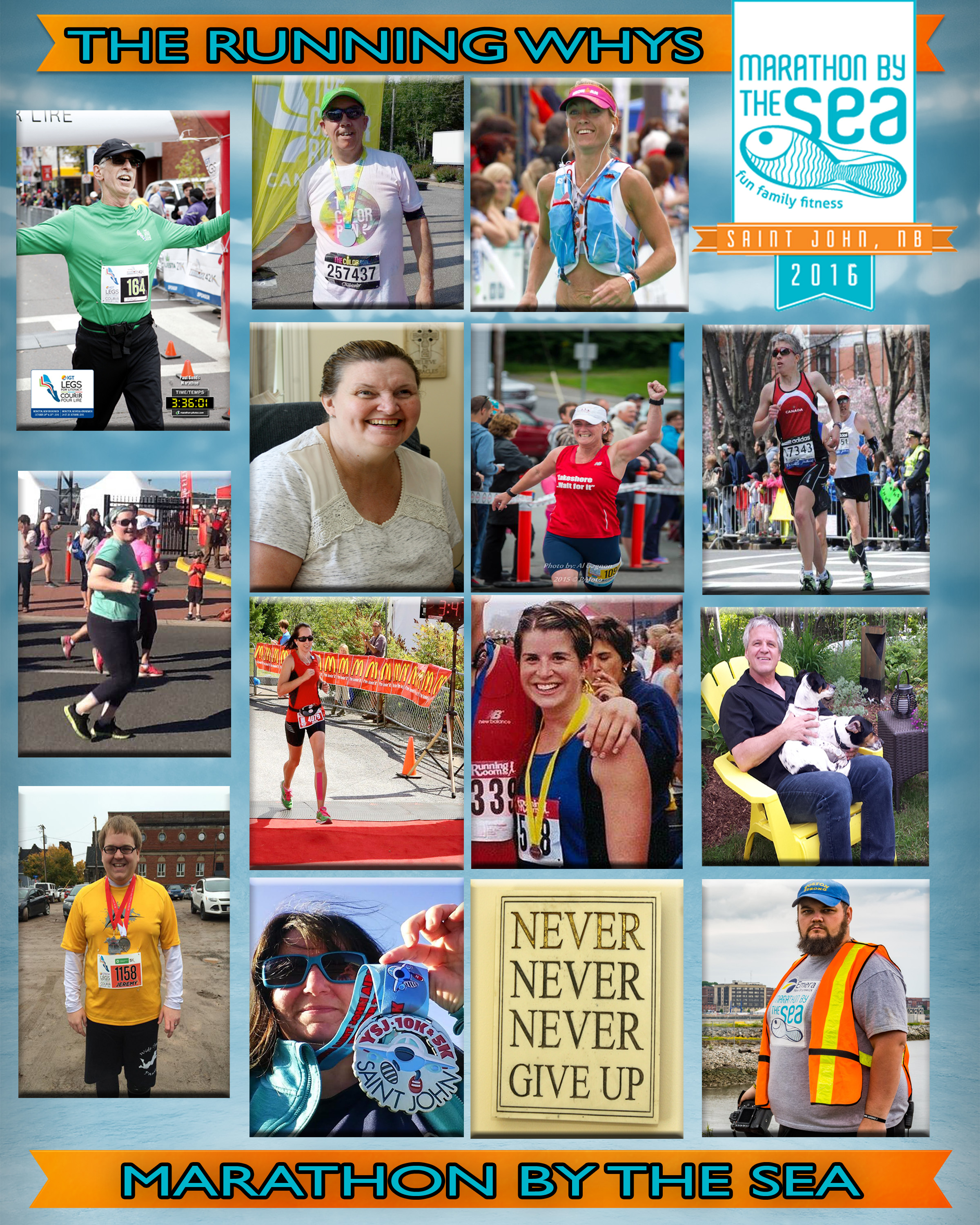 By Kevin Barrett
One runner lost 70 pounds. Another dropped more than 45.
Several used the sport to deal with the stress of difficult family situations.
Two others detailed their reasons for volunteering at Marathon By The Sea.
And one extremely special woman encouraged us to Never, Never, Never Give Up. Demonstrating determination and a strong will allow you to accomplish anything.
Those were just some of the stories associated with the 2016 edition of the Marathon ByThe Sea's Running Whys.
They will venture from near – Saint John – and far – Australia – and many points in between.
And once again this year, generous souls have opened their hearts to what motivates them and led them to this weekend's races – whether it is a 5 km run/walk, a full marathon on Sunday or as part of the novel and exciting Port City Challenge.
Here are links to the stories we ran this year:
Virginia Joudrey, Bill Joudry, Natalie Davidson, Terry Thorne, Jeremy Brown, Cheryl Donovan, Joe Comeau, Mike Doyle, Charlotte Flewelling, AndréeGermain, Sue Teakles, Brenda Guitard and Paul Sands.
These stories were a hit on social media, once again leading to large scale interest by friends, family and those generally interested in running.
Here are some of the comments.
"I couldn't be more proud of my amazing friend. She is the true definition of an adventurer who is always looking for new fun!"
"Terry's words ring out loud and clear! They do what physical strength does not allow her to do. They come along side of those who want to give up and give in for far lesser reasons. They offer strength to those who need courage to go perhaps just "one more turn around". Terry's beauty shines in her smile and the twinkle in her eyes."
"You are awesome, totally totally awesome and so inspirational.. thanks for sharing your story with everyone."
"Well that made me cry. Strength in so many ways. Thank you for sharing your story!"
"Nice story! Running is life changing for sure!"
"Very proud of my sister-in-law Sue Teakles for all of her running accomplishments over the past couple years, keep it up and have a great run at this year's Marathon by the Sea!!"
"I consider myself very lucky that you taught the run clinic at work Brenda. Very! Thanks for your support and encouragement along the way."
"That's Awesome!"
"Proud to call Paul a friend. Quite an inspirational guy!"
"Congrats. I remember seeing you Dad run by our house a lot when I was a kid….. Wait a minute that was 30 years ago."
"That is just awesome Joe. Well done."
"Beautiful story of inspiration and determination!"
"Great interview, Mike!"
"Congrats this is an amazing journey and accomplishment. You have made a total life transformation and we are super proud of you. Keep up the great work."
Those were some of the many comments.
The final story was on Friday, and ended fittingly when Virginia Joudrey said:
"Everyone has a passion and running is mine. I want everyone to believe that no matter what age you are and no matter what goal you have, those goals are all worth aiming for.  I hope my story resonates with fellow runners and encourages anyone considering running to take that first step. It will change your life! It changed mine! Happy Running!"
Good luck to all this weekend.