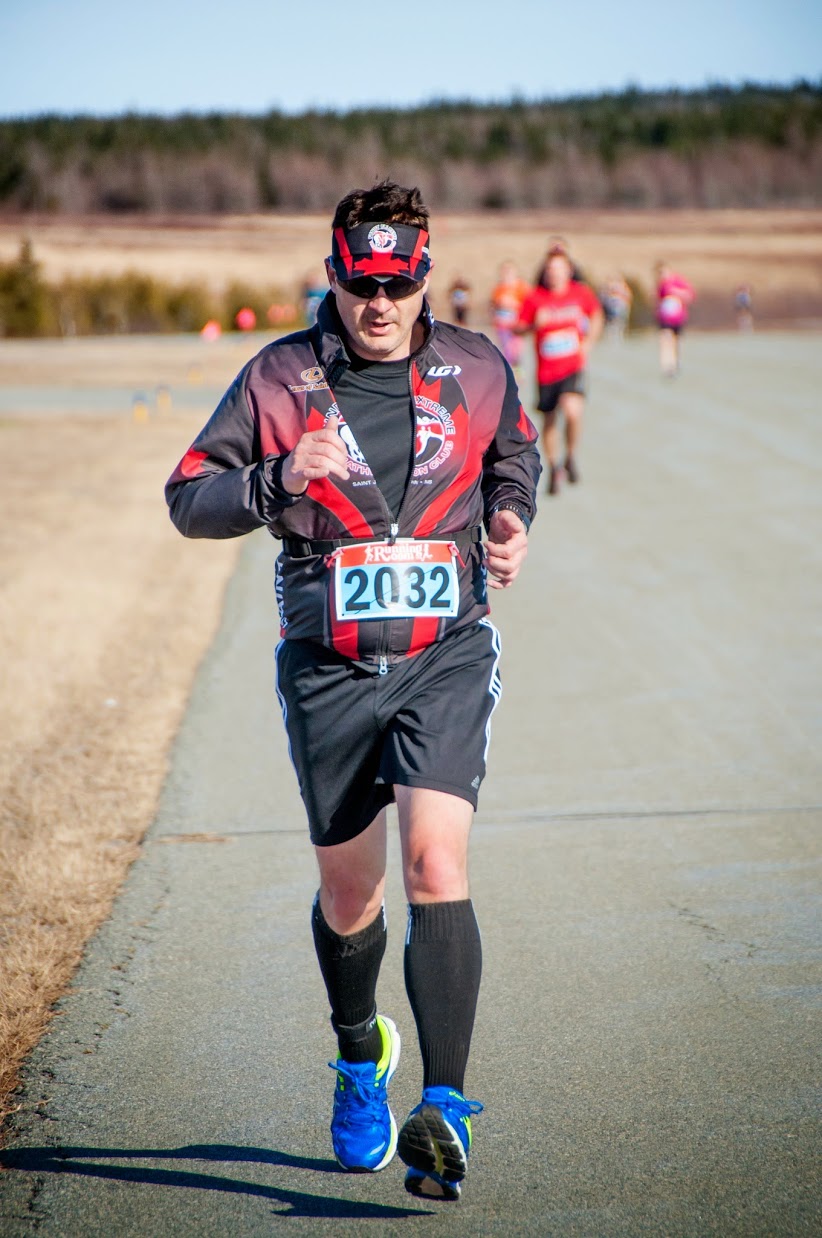 There was a time when Mark Clinton was not a runner. He tried but even though he purchased exercise equipment, he would avoid it. Eventually, a spark was lit, he trained for a race and was hooked. But more importantly, he was exposed to the incredible race day atmosphere and hasn't looked back, savouring the relationships he has developed along the way to improved fitness. Here is his Running Whys story, a reflection on his journey and a testament to the supportive running community in Saint John that he cherishes so much.
Enjoy.
==
by Mark Clinton
I was never a runner.
I admired runners, I hung around with runners, my father was a runner, but I didn't think I had the discipline or patience to be one of those people. Where do you even start?
In 2009 I bought a treadmill. I justified the purchase 15 different ways, with 15 different promises to myself and my wife Holly. And there it sat, unused, for four years. It became the cliché of the treadmill/clothes hanger. I even renovated a whole basement around it by moving it from room to room.
Over the winter of 2012-13, I watched as Holly joined and became more involved with the Fundy Extreme Triathlon Club. I saw how welcoming and supportive this group of people was and wanted to be a part of that community in some way, even if it was just so that Holly could tell her new friends that I "ran" as well. I dug out the treadmill in earnest.
Throughout that first summer and fall, I ran exclusively on the treadmill. The idea of even running outside, let alone in a race was far from my mind. I was determined to run a few times a week, lose some of the weight I had gained after quitting smoking years earlier, and try not to hurt myself in the process.
Somewhere around the new year, with Holly's encouragement, I decided to sign up for my first actual race: The Brent Kelly Memorial 5 Miler. The amazing atmosphere, the positive and inclusive attitude of everyone there, and the love of life that just surrounds these events had me hooked from the start. Despite being somewhat disappointment in my run/walk through the Nature Park, I immediately went home and signed up for the next run on the calendar. A running addict was born.
It wasn't long before the idea of actually finishing a half marathon started to take root. The more runs I attended, and the more people I met, the more encouragement and confidence I had in my own abilities. My friend, running partner and one of my biggest cheerleaders, Brittany Merrifield, graciously let me in to her seemingly perpetual marathon training schedule, and has become a huge motivator and inspiration to me.
During the Beat the Tide 10k in July, I experienced in one race, both the lowest of lows, the highest of highs and the best that running has to offer. It was around the 8 or 9 k mark in the searing heat – the last water stop had just run out of water – and I was hitting the wall. I began to walk with full intention to walk the remainder of the course.
Carolyn Prebble came up from behind me, said something to the effect of "you're not going to quit now", and she never stopped encouraging and motivating me to keep running all the way to the finish line. (Where we inexplicably joined hands and crossed together in a spontaneous gesture of shared pain and accomplishment.) Such is the overwhelmingly supportive nature of the running community in Saint John.
I've watched the Marathon by the Sea grow and develop since the beginning. I remember standing at the sidelines at the start/finish line when Holly ran MBTS halves in 1999/2000, and thinking how impossible it would be for me to get to that place. But there I stood, 14 years later, hopping up and down with pace bunny Gina Hyslop and the rest of the 2:15 hopefuls, ready to run 21k for the first time in my life.
The race was an adventure, as all races seem to be in some way. I worked the 10's & 1's for the first time with Gina and company, and stayed with them until the Harbour Bridge. It really helped me with the nerves to be around a group and listen to their stories as we ran together. After the Harbour Bridge, I was feeling completely spent and nearing my limit, when who do I see waiting for me by the side of the road?
Carolyn Prebble, who made a special trip in just to help me finish it out. She dragged me, kicking and screaming, through the last few tough kilometres of Rockwood Park to the finish line in 2:15:48, right where I wanted to be. It's a gesture like this that exemplifies the generosity of spirit and incredible kindness of the Saint John running community, to which I am now proud to be a member of.
I've done three half marathons since that day, and I have three more on the schedule this year, including a return to Marathon by the Sea. I look forward to improving my time, but even more, I look forward to the adventure it will undoubtedly be.