Wag`n Wheel 4K
The Wag'n Wheel 4K Run dares to go where no other running event has gone before!  We have created a brand new Marathon By The Sea running event for moms, dads, kids and K9's!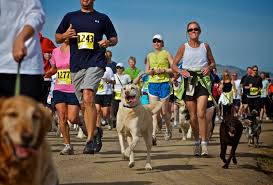 This event will see dog lovers of all ages teaming up with their four legged friends as well as moms and dads pushing newborns and toddlers in strollers in a running event dedicated to parents, kids, dogs and pups.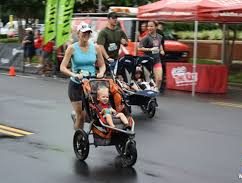 This years event is in support of the Curly Adams Memorial Fund.

This fund is dedicated to the Memory of Dr. Adams much loved dog Curly and to all other animals who have the misfortune of being homeless.
Funds collected in Curly's name are used to purchase drugs and equipment to help sick and injured homeless pets and wild animals. All of the veterinarians at the Fairvale Animal Hospital donate their professional time to these needy patients. Afterwards, we work hard to adopt them out to loving homes. The adoption fees are returned to the Curly Fund and the cycle continues.
This fund is now a non-profit charitable organization and donations are tax deductible.
Race Details:
Date: Saturday, August 11th, 2018
Time: 2:00 PM
 Disclaimer:
Dog owners must respect Wag'n Wheel 4K Walk/Run – K9 Participation Rules (SEE BELOW). Participants will be required to sign a waiver at the time of race kit pick-up. Participants pushing strollers with young children must be 18 years of age or older or accompanied by an adult at all times during the event.
4K Registration Fee:
Early bird (Until March 30th) – $30 + $5 if accompanied by a dog (One per participant)
Regular (Until May 30th) – $35 + $5 if accompanied by a dog (One per participant)
Late (until Aug 8th)- $40 + $5 if accompanied by a dog (One per participant)
Event Weekend – $50 + $5 if accompanied by a dog (One per participant)
All registered Wag'n Wheel 4K Walk/Run participants will receive a t-shirt and finisher's medal, and all participating dogs will receive a race bandanna and finisher's dog tag.
Our 2018 Medals
All events will take place at the furthest parking area at 333 Water Street, adjacent to the Diamond Jubilee Cruise Terminal.
Race Kit Pick-up
Located in the start finish area outside the main cruise terminal.
Pick up your race kit at the  Diamond Jubilee  Cruise Terminal, 333 Water Street, Saint John, NB.
Friday, August 10th, 4:30 pm – 8:30 pm
Saturday, August 11th, 10 am – 12:30 pm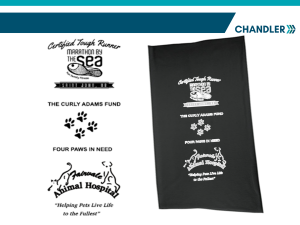 • Start/Finish Diamond Jubilee Cruise Terminal
• Runners turn left onto Water St
• Up Water Street Turning left at market Square
• Around Hilton Point coming out turning left on Smythe St
• Follow Smythe St runners turn left into Harbour Passage
• Follow passage to turn around point located under Harbour Bridge
• Back to Start – Finish
Wag'n Wheel 4K Walk/Run – Dog Participation Rules
To Ensure the safety and enjoyment of all participants of the Wag'n Wheel 4K Walk/Run event we ask that you respect the following rules:
– To maintain a safe environment throughout the event we ask that all dogs be tethered on a short leash so as to maintain control and to avoid leash tangles.
– Keep dogs on leashes at all times. Dogs who are leashed may feel threatened by free-roaming dogs.
– Dog owners must have the leash in hand at all times. In the event of problems dog owners should be able to quickly remove their dogs from the situation.
– Dog owners must keep their dog in view at all times. No dog may be unattended. Unattended dogs are more likely to get into trouble.
– All dogs must have up-to-date vaccinations prior to entering Wag'n Wheel 4K Walk/Run start/finish area. Dogs who are up to date on vaccinations are less likely to spread certain communicable diseases.
– Dogs must have current rabies and applicable license tags clipped to their collars at all times.
– Puppies under four months of age have not received all of their vaccinations. They should be kept away from the start/finish area and other dogs for their own protection and that of other dogs.
– No infants or small children are permitted to control dog during event.
– Owners are responsible for the behavior of their animals.
– Aggressive dogs are not allowed to participate in this event. Any dogs showing signs of aggression will be removed from the premises. Aggressive dogs tend to engage in fighting behavior.
– Female dogs in heat can cause aggression in male dogs. In addition, female dogs in heat should be kept at home in order to prevent unwanted puppies.
– Do not give treats to any dog without the owner's permission. Some dogs may have allergic reactions to some treats.
– Do not bring any dog toys inside the race event grounds. Dogs may claim toys that do not belong to them, which may lead to aggressive behavior. Small toys may be a choking hazard to some dogs, especially larger dogs.
– Owners must clean up any dog droppings made by their pets. Bag all droppings before depositing them in provided receptacles.